Hooker Berry
Booster Winner - Osaka Berry
Born: 2017 / Record: 1.10,5am / Purse: 1483520 euro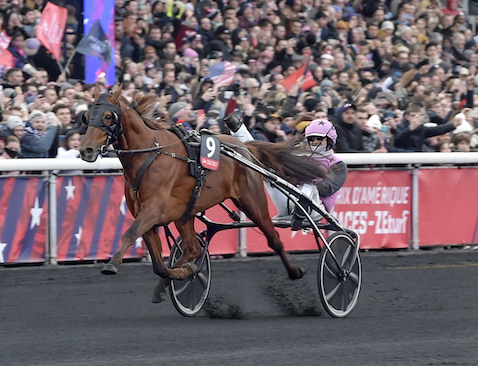 Hooker Berry is a trotting machine that has never been trained very hard and nevertheless has been struck in the top of his generation since his debut as a two-year-old. After five group II victories last year, the intensity of training was increased for the Prix d'Amérique and then the stallion was superior in the world's toughest race!

Hooker Berry left his competitors far behind in this year's Prix d'Amérique and Jean-Michel Bazire showed with arms and legs over the stretch. Hooker Berry showed both stamina and speed when he finished last 500 meters in a milerate of 1:50,2!

Hooker Berry was an early developed talent that began his career with victory that two-year-old and never missed the podium in six races. He ended the two-year-season with a second place in Prix Emmanuel Margouty behind Helgafell. As a three-year-old, he won in two semi-Classiques and also won a group III race in 1:53,3 at Enghien. Last year, Hooker Berry triumphed in five group II races and finished second in the group I-race Sulky World Cup 5 Ans.
Prix d'Amérique became the first group I-win in his career with just over 34,000 spectators on Vincennes stands.

Hooker Berry is by the Love You-son Booster Winner, who raced in the fantastic "B-generation" as a young horse and started in the Prix d'Amérique twice.
He has 372 French-registered offspring in racing age, of which 21 earned over EUR 100,000. Hooker Berry, born in 2017, is his most profitable. The son Hastronaut won in Criterium des 4 Ans 2021.

Hooker Berry's dam Osaka Berry, has also produced the trio Falco Berry 326,700 euros, Eliska Berry 307,145 euros and Darling Berry 304,140 euros. Osaka Berry earned EUR 263,740 at the tracks and her dam has produced six horses with over EUR 100,000 in winnings. The filly with starquality, Quokine Berry 890.580 euros, is the most successful. She was also trained by Jean-Michel Bazire with group victories in her track record.
Gallery
Fee
Stud fee: Euro 5,000 (applies to mares outside the French pedigree). Only available with fresh semen in France.
Booking fee varies in Europe.